---
Front Brake Disc for DAIHATSU MOVE - 1999
8345
The auto vented disc brake rotor manufactured for DAIHATSU MOVE -1999 is compatible with OE 43512-87220 and 43512-87222.

CHIHON YDL utilize vehicle specific cast iron FC250 / G3000 which provide strength and durability not found in competitive products. Excellent performance, reliability, durability, and comfort in all conditions are our goals.

CHIHON YDL disc brake is your ideal parts choice.
Product Specification
MAKER
DAIHATSU
MODEL
1994-1999 MOVE 0.7/ 0.8
POSITION
Front
OE#
43512-87220
43512-87222
DIMENSION (mm)
Diameter (Ø): 234.2
Thickness (TH): 16
Centring diameter (C): 70
Number of holes (B): 4
Overall Height (H): 36.8
CROSS REFERENCE
AP#
25657 V
ATE#
24.0116-0118.1
BREMBO#
09.D134.10
NIPPARTS
J3306022
TRW#
DF4720
WARRANTY
1 year / 20,000km
COUNTRY OF ORIGIN
Made in Taiwan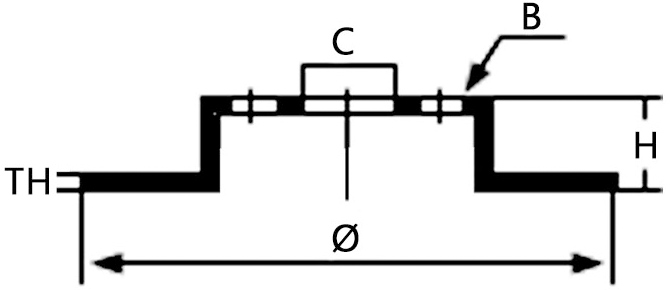 Additional Information
Material: Grey cast iron FC250 / G3000
Package: Polybag, White / Color Box or pallets
Warranty: 1 year / 20,000km
Country of Origin: Made in Taiwan
Delivery
In stock for 30 days.
Out of stock for 45-90 day.