---
Front Brake Rotor 40206-3Y502 for NISSAN ALMERA, X-TRAIL - 2013
8812
The auto vented disc brake rotor compatible OE numbers are 40206-3Y502, 40206-4U101, 40206-YH000, 40206-8H300, etc. Suitable for NISSAN ALMERA TINO, MAXIMA QX V, PRIMERA, (Estate, Hatchback), X-TRAIL 2.0. The auto disc brake rotor features an OEM Style and quiet operation.
The advantage of our disc brake rotors is that the products meet ISO and TS certification.
Each process or manufacturing has precision dimension measurement to reduce the defect rate. Not only keeps your disc rotor lasting longer but also makes your wheel durable. All YDL brake rotors are manufactured to match the OE construction.
For more information, please check out product specification below, where you can find the all the details. CHIHON, YDL disc brake rotor is your ideal parts choice.
Model
1998-2006 ALMERA TINO 1.8 / 2.0 / 2.2 dCi
1999-2003 MAXIMA QX V 2.0 V6 24V / 2.5 V6 24V / 3.0 V6 24V
2002- PRIMERA Estate, Hatchback 1.6 Visia / 1.8 / 1.9 dCi / 2.0 / 2.2 dCi, Di / 2.5
2001-2013 X-TRAIL 2.0 4x4 / 2.2 dCi 4x4 / 2.2 DCi FWD, Di 4x4 / 2.5 4x4
OE#
40206-YH000
40206-3Y502
40206-3Y503
40206-4U101
40206-4U103
40206-4U105
40206-4U107
40206-8H300
CROSS REFERENCE
ACDelco# 18A2394
AIMCO# 31418
AP# 24898
BENDIX# 562441B
BREMBO# 09.9368.10
DELPHI# BG 3730
RAYBESTOS# 980388
TRW# DF4316
ZIMMERMANN# 200.2515.00
Product Specification
MAKER
NISSAN
POSITION
Front
DIMENSION (mm)
Diameter (Ø): 283
Thickness (TH): 28
Centring diameter (C): 68
Number of holes (B): 5
Overall Height (H): 49.2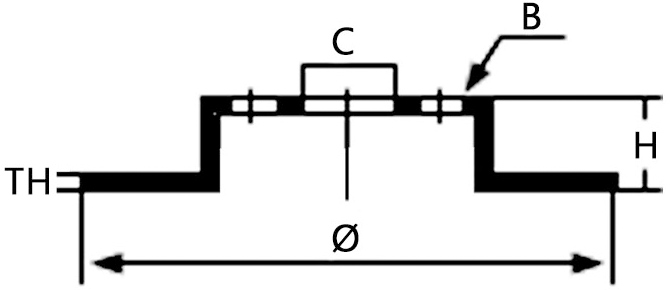 Additional Information
Material: Grey cast iron FC250 / G3000
Package: Polybag, White / Color Box or pallets
Warranty: 1 year / 20,000km
Country of Origin: Made in Taiwan
Delivery