---
Front Disc Brake Rotor for MITSUBISHI DELICA 1.6 - 2013
8361
CHIHON YDL aims to offer high-quality disc brake rotor for MITSUBISHI DELICA to ensure that brakes work properly. The OE compatible number is MB430066, MB430068, MB407030. Our disc brake rotors are manufactured with strict criteria. High quality and ongoing development and expansion of range are YDL advantages.
Our brake disc meets ISO and TS certification. We keep updating the product variety to the needs of our target groups and provide the highest technical standard.
CHIHON YDL disc brake is your ideal parts choice.
Product Specification
MAKER
MITSUBISHI
MODEL
1986-2013 DELICA 1.6 / 2.0 /  2.4 / 2.5 D (L200, L300)
POSITION
Front
OE#
MB430066
MB430068
MB407030
DIMENSION (mm)
Diameter (Ø): 258
Thickness (TH): 22
Centring diameter (C): 84
Number of holes (B): 5
Overall Height (H): 33
CROSS REFERENCE
AP#
25033
BREMBO#
09.A285.10
DELPHI#
BG4036
NIPPARTS#
J3305018
REMSA#
61260.10
TRW#
DF7006
WAGNER#
BD61785
WARRANTY
1 year / 20,000km
COUNTRY OF ORIGIN
Made in Taiwan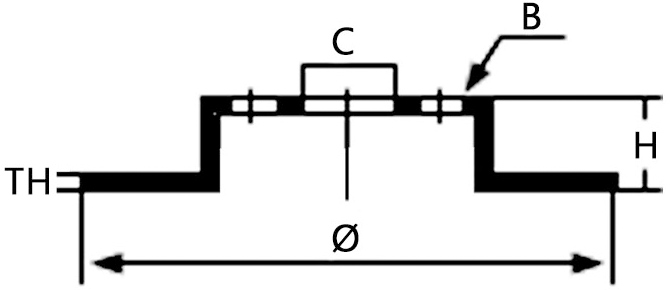 Additional Information
Material: Grey cast iron FC250 / G3000
Package: Polybag, White / Color Box or pallets
Warranty: 1 year / 20,000km
Country of Origin: Made in Taiwan
Delivery
In stock for 30 days.
Out of stock for 45-90 day.