---
Front Disc Brake Rotor for MITSUBISHI GALANT 1980-, LANCER
4005
The auto solited disc brake rotor used for MITSUBISHI GALANT 1.6, LANCER, and SAPPORO 1.6 GLX. These front axle replacement is produced with strict technology and design that makes them last longer. The OE compatible number is MB134845.
In order to keep up with the market especially in Japanese models, our brake disc meets ISO and TS certification. Our highly strict quality control is to have a safety trip for drivers. YDL offers a brake rotors range with excellent performance, reliability, durability, and comfort in all conditions. Through our dedication to high-quality products and competitive price to meet customer's requests, we have earned good feedback from our clients.

CHIHON YDL disc brake is your ideal parts choice.
Product Specification
MAKER
MITSUBISHI
MODEL
1980-1984  GALANT 1.6
1979-1983  LANCER 1.2 / 1.4 GLX / 1.6
1980-1984  SAPPORO 1.6 GLX
POSITION
Front
OE#
MB134845
DIMENSION (mm)
Diameter (Ø): 232
Thickness (TH): 13
Centring diameter (C): 67
Number of holes (B): 4
Overall Height (H): 26.4
CROSS REFERENCE
BLUE PRINT
ADC44304
BREMBO#
08.4496.10
NIPPARTS
J3305006
WARRANTY
1 year / 20,000km
COUNTRY OF ORIGIN
Made in Taiwan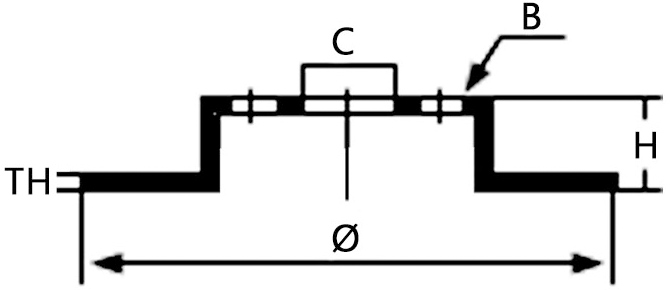 Additional Information
Material: Grey cast iron FC250 / G3000
Package: Polybag, White / Color Box or pallets
Warranty: 1 year / 20,000km
Country of Origin: Made in Taiwan
Delivery
In stock for 30 days.
Out of stock for 45-90 day.