---
Rear Brake Rotor for NISSAN ALMERA 2000-, PRIMERA
8710
The rear axle disc brake rotor manufactured for NISSAN ALMERA II (Hatchback), PRIMERA (Hatchback, Traveller) feature excellent heat dissipation and solid braking performance. These auto vented replacements are produced with strict technology and design that makes them last longer. The OE compatible numbers are 43206-99J01, 43206-88E03, 43206-99J00 and 53206-5M311, etc.
The advantage of our disc brake rotors is that the products meet ISO and TS certification.
Each process or manufacturing has precision dimension measurement to reduce the defect rate. Not only keeps your disc rotor lasting longer but also makes your wheel durable. All YDL brake rotors are manufactured to match the OE construction.
For more information, please check out product specification below, where you can find the all the details. CHIHON, YDL disc brake rotor is your ideal parts choice.
Model
2000- ALMERA II 1.5dCi / 1.8 / 2.2 dCi, Di
2000- ALMERA II Hatchback 1.5 dCi / 1.8 / 2.2dCi, Di
1990-2001 PRIMERA 1.6 / 1.8 / 2.0 D, GT, i
1990-2002 PRIMERA Hatchback, Traveller 1.6 / 1.8 / 2.0i
OE#
43206-42R01
43206-42R05
43206-42R00
43206-54C01
43206-88E03
43206-35F01
43206-53F00
43206-70F00
43206-9E601
43206-99J01
43206-99J00
43206-53F00
43206-59J01
53206-5M311
CROSS REFERENCE
ACDelco# 18A625
AIMCO# 31058
AP# 14471
BENDIX# 561725B
BREMBO# 08.5443.10
CENTRIC# 120.42051
DELPHI# BG2634
TRW# DF4548
WAGNER# BD61931
Product Specification
MAKER
NISSAN
POSITION
Rear
DIMENSION (mm)
Diameter (Ø): 258
Thickness (TH): 9
Centring diameter (C): 68
Number of holes (B): 4 + 2
Overall Height (H): 44.6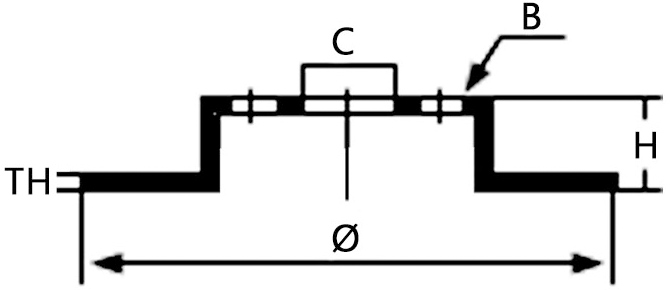 Additional Information
Material: Grey cast iron FC250 / G3000
Package: Polybag, White / Color Box or pallets
Warranty: 1 year / 20,000km
Country of Origin: Made in Taiwan
Delivery
Little stock Available but not many.